OK, you're being spoilt. This column is now going to be on a bi-weekly rather than monthly basis. You lucky people, you!
Anyway, I said at the end of my last blog that estate agents' websites are failing to properly appeal to their target market. Now I'm going to explain why. It's probably going to be a bit controversial, but it would be no fun if everyone agreed with each other all the time, would it?
As an agent, one of your key objectives will always be to secure your next vendor/landlord. Your website should reflect this. It should first and foremost target them, lure them in, you should be giving them a hook. It should, above all else, function as a 'lead magnet' for the people who keep you in a job. In the case of too many agents' websites, however, this is not happening. There is no direct message from agents to the people they need to be targeting. Why?
Instead, it's all 'property of the week' or 'start your property search here'. By all means have these things, but they shouldn't be at the forefront of your website. Rather, messages need to be targeted to the vendor/landlord to tell them why you're so great, why they should market their property with you rather than one of your rivals.
If a potential vendor or landlord wants to research your agency, their first port of call will be your website. However, when they arrive, there is not enough to keep them there, there is not enough of a hook. In marketing we call this a 'call to action'. If you don't provide this, they'll be off to another competitor, traffic bounced elsewhere. And that means you've missed a trick, you've lost out on a potential opportunity. Surely that's criminal, isn't it?
Sure, vendors and landlords want to see how their property is going to be portrayed on your website, they'll want to see style and elegance and glossy photographs. I understand that is what you're trying to showcase. But, looking at most agents' websites, you'd think buyers/tenants were the main target market, when that obviously isn't the case.
You can spend all you want on newspaper ads, untargeted leaflet drops, local advertising and even portal advertising, if your website ain't up to scratch you won't get as many leads! If it doesn't sufficiently draw your target market in, then you're facing an uphill battle from the very beginning. It's like someone entering a shop and no member of staff getting up to greet them. People won't hang around. Your website should be a shop window that is open 24/7 to capture data.
Case in point. At the recent myhomemove conference I attended, there was one particular Rightmove slide that caught my attention.
When a vendor/landlord rings an estate agent or drops into a local branch, 71% are asked to register their details while only 22% are asked if they have any property to sell or let. That's staggering, isn't it? 22%! Shouldn't this be 100%? If they're ringing you or dropping into your branch and you're not asking this simple, obvious question, you could be missing out on more business. Currently, 78% of potential vendors and landlords are not being asked – that's just way too high. If an agent's website is also not catering to their target market, then you're at the bottom of the hill on two counts.
I'm on a one-man crusade to change this, one agent at a time, because I think too many easy opportunities are being missed. At Angels Media we offer an instant online property valuation tool that significantly increases the volume of genuine vendor and landlord leads generated through your website.
Before I'm accused of shameless plugging, hear me out. An instant online valuation tool is one way of targeting vendors/landlords. Not only will they want to know how much their property is worth to work out if now is a good time to sell or charge higher rents, knowing the value of their property also acts as an ego boost, a chest-beating exercise. It's a national pastime, a favourite dinner-party topic. Discussing how much your house is worth, discussing how much your property portfolio amounts to, and so on. So that's what we play on at Angels Media.
I'm not here to discuss the merits of an automated valuation tool or to take away from what an agent does, but having a hook or lead magnet on your website will enable you to attract more vendors/landlords. I'm not saying agents can't do valuations, far from that - we aim to get you way more valuations! However, offering an instant online valuation tool allows you to capture more leads, which in turn allows you to follow up on the initial interest and subsequently provide a full market appraisal.
Love them or loathe them, Foxtons' website is a good example of one that gets it right. As soon as you arrive at their website they hit you with what they can do for you. If you don't tell the vendor/landlord what you can do for them within the first few seconds of them browsing your website, chances are they'll move on elsewhere.
Capital and Coastal and Life Residential are just two agents whose websites are effectively utilising an instant valuation tool to target prospective clients. When you arrive at their websites, one of the first things you see is how you can get a free valuation of your rental or sales property. It catches your attention straightaway.
Our friends at Homeflow – specialists in estate agent websites – have loads of ideas on how agents can build a website that effectively targets vendors and landlords rather than buyers and tenants.
The above might not make me too popular, but I hope it generates a bit of debate about agents targeting their websites accordingly. It's not happening enough at the moment. It needs to happen more in the future.
In other news, one of our Angels is getting married this weekend. Here's how we sent him off.
And on my travels this week, I saw this witty board outside a pub near Shakespeare's Globe Theatre.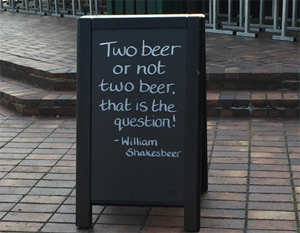 Until next time…when I'll be looking at the rising phenomenon of agent-rating and review websites.
*Nat Daniels is the Chief Executive Officer of Angels Media, publishers of Estate Agent Today and Letting Agent Today